targaryen

Who's YOUR Smallville guy?
This quiz brought to you by Giselle and Vatrixsta at The Talon
Sé que puede parecer que me he tangado, pero juro que contestaba las respuestas más cachondas. Por ejemplo en "¿Qué libro está leyendo tu chico ahora?" Puse "Cómo recuperar tu granja de maiz del bastardo que te la robó, en 10 cómodos pasos". Así que: WEEEEEEEEEEEEEEE, LEEEEEEEEEXITOOOOOOOOOOOO!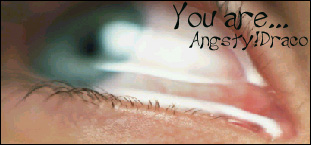 Sob. Cry. Sniffle. You lead an awful existence, tortured by those such as your father, your House, Harry, Voldemort, Snape, and the list goes on. Often going hand in hand with Slashy!Draco, you are usually paired up with either Harry or (ew) Lucius. Sometimes suicidal, sometimes just very fond of how blood looks on your pale skin, you bitch and whine throughout the whole story. How depressing.
Find out which Draco you are.
Y mira que me moría porque me saliera el LeatherPants!Draco, (Immortalized by the famous "Draco Sinister" (by Cassandra Claire), you are witty, sexy, and the typical bad boy girls love. You are paired with Ginny or Hermione, because they remind the author the most of herself. You have sudden special powers that enable you to go along special Voldie-killing missions with Harry and Co. At first you get on everyone's nerves, especially Ron's, but soon everyone learns to love you. Everyone.
Pero este es mi favorito:

You are Donnatella Moss, assistant to Josh Lyman...
which, I guess, makes you the Deputy Deputy
Chief of Staff.

Which West Wing Assistant Are You?
brought to you by Quizilla
Soy Donna! ¡¡¡Qué emoción!!! Argh, ahora he perdido la foto... ¡Pero soy Donna! ¡Voy a vender mi coche y a mangarle la silla a Josh! ¡Yupiiiii!! Por cierto, ya llevo cinco retos y subiendo. Gracias a todos!!